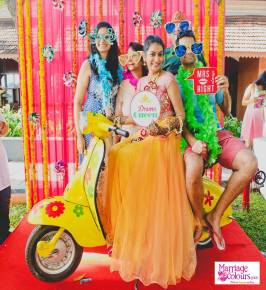 Props Galore
While we were scratching our heads on how to make a wedding interesting, there came the photo shoot!! And, when we were digging it even deeper, that resulted in props. Having props is the new trend, props can be based on the theme, or the function. These props are always a big hit in functions like Sangeeth and bachelors party; however if you do not have either one of it - do not hesitate to try it out at your reception or even marriage. After all, it is your day, try to make it more spicier in any which way as possible.
Some of the strange prop ideas apart from the traditional boards, mustache, innovative photo frames, pouty lips, accessories and glasses and many more.
Talk to us for more whacky stuff!!!