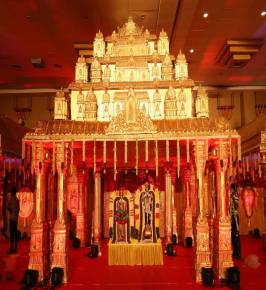 Destination @ UR Wedding
What will you do if you are a fan of destination wedding and have been longing for one since your teenage? At the same time your parents want to invite all their friends, relatives and etc? We know how it feels!! Inviting 1000's of guests and a nightmare of logistics and most importantly the spend is alarming!!!
Think about bringing the destination to your wedding, Mr.Narayanan wanted a wedding in Tirupathi, but their guest list was excess of 7000, we decided to build the exact same Tirumala Tirupathi gopuram along with the Utsavar; we even distributed Tirumala type laddus to all the guests. Similarly you could bring a beach to your destination, of you are planning for under water wedding, you could also build a temporary aquarium at your destination. We like it when your imagination runs wild :)
Ping us for more destination options @ UR Wedding!!!