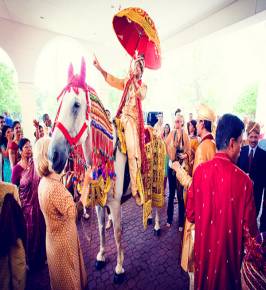 Cinematic Bride-Groom Entry
The Bride-Groom Entry is like the opening scene in a movie, always sets the tone of the wedding; be it Super star Rajinikanth entry or Tom Cruise of Mission Impossible, the opening scene sets the adrenaline rush and also sets the expectation of the event, and as the old saying goes "First impression is always the best impression". So it is mandatory to have a awe-somatic bride groom entry. The Entry can be anything, it can be a simple Band style entry or an electrifying Dhol with Dhandiya performance or even entering in a colourful and bollywood style dance to the same tunes.
Gone are the days - The bride coming from lotus, bride flying form the air, etc!! These days people love real things and we need to design it in such a way that guests also participate and can feel the excitement and not feel secluded
So, who participates in it and how to go about it?
The bride and The groom - Ofcouse they must be there!!
Friends and Relatives - Their presence makes it even more grandeur
Theme??? - It dosent matter if there is a theme or not.
Confused what to include?
Get in touch with us to get the most adorable and whackiest of ideas!!!